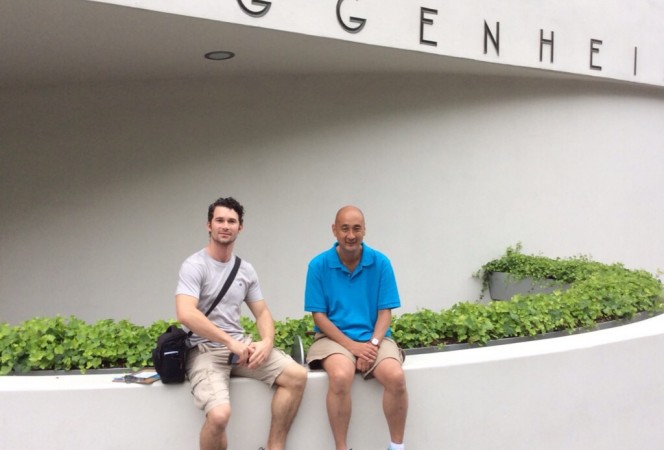 Yesterday I had the  privilege of spending a day with Miimili-Anangu School Principal @loukaparry at the Guggenheim Museum in New York City. Louka and I have tweeted with each other for a while (he has camels in the back of his school while I have chickens, rabbits and ducks) but only met face to face once in a Social Ventures Thought Gathering in 2013. Louka's school is predominantly Indigenous students 1200km north west of Adelaide and 450km from Alice Springs. It's a remote school, full of complexities as you would imagine for a remote rural community. Louka is on his way to Harvard for a short course while I have just left the same place.
The Guggenheim is a famous museum in New York City exhibiting some of the best artworks from around the world. Current exhibit is the Italian Futuristic collections from the period 1909 – 1944. It is important to say that Louka and I don't subscribe to the Italian futuristic manifesto which glorified war and militarism while at the same time demeaned women and the various institutions of the era, and ultimately led to Italy being involved in WW11.
Louka and I observed artworks that were quite advanced in thought and showed technological advances well beyond the years of the era. Many of the artworks focused on transport and architectural designs of buildings that were quite remote from the era in which they were painted.
Louka is a futuristic thinker and has provided opportunities for his students despite the complexities associated with being in a remote rural schools. In one anecdote, Louka shared how they have driven their students four hours to a main bus stop to catch a greyhound coach (with no certainty) that the bus is on time) to Port Augusta just so that his students can learn about living in a major town, and experienced a beach with waves. While we may not consider this to be futuristic, the processes that Louka undertook to see a need for his students and then making it happen is an example of future thinking – that is, solving a problem for his local community school.
In education, we need futuristic thinkers that can solve problems at all levels, from classrooms to whole school and school areas. We need leaders that can imagine the unimaginable and have the thought processes to make it happen. Each day, it's quite easy for school leaders, including myself (and quite often) to fall into the trap of consuming most of their time managing a school instead of leading a school. We can be drawn by parents or systemic issues that drag away our time from thinking and making the future become more remote.
Over the past 20 years, I have been involved in writing school plans from year to year with a focus on improving student outcomes with data measures based predominantly on standardised tests. Sometimes, this becomes a hit or miss solution as we devote additional resources to English and Maths coupled with a vast amount of professional development of teachers in a broad range of programs. Despite this, spending tens of thousands on English resources have not produced a consistent major spike as intended (there I said it), nor has spending the equivalent amount on teacher professional development at conferences or workshops. So we need to be more strategic about what we do and reflect on how students learn currently. To do this, we've had to unpack assumptions and beliefs that we've held as a starting point to recreating and building.
This year, we have been working in partnership with Social Ventures Australia Bright Spots program and invested a vast amount of time imagining what our school would be like in 5 years time. We have drafted our 5 year plan, not predicated on achieving the odd change in NAPLAN scores but focusing on major structural reforms in the way we organise our school to meet the pedagogy and learning of our students, and with an emphasis on C21st skills and student engagement. This is major shift from my own education sector and truly welcomed as we can strategically imagine, create and develop with an element of authority and freedom.
Our school is aiming to be classless, where all learning is personalised and students can learning anytime, anywhere and with anyone to solve local and global issues through project based learning and adventure time. Some might say we're radical but we don't see ourselves in that way. Instead, we view what we're doing is solving a futuristic problematic situation in our school context and being researchers in the process.